From Sundance to Shanghai: 'Excuse Me, Miss, Miss, Miss'
MANILA, PHILIPPINES, JUNE 10, 2021 — From competing in local film festivals, namely QCinema and Cinemalaya, to the Sundance Film Festival in the United States, Sonny Calvento's short film "Excuse Me, Miss, Miss, Miss" will be participating in the International Panorama Short Films section at this year's Shanghai International Film Festival (SIFF) from June 11 to 20. 
One of the biggest film festivals in China, the SIFF has become one of the most important festivals in Asia and the world, and has featured films from Filipino filmmakers in the past years. 
"Excuse Me, Miss, Miss, Miss," a fantasy comedy short film directed in 2019 by Calvento, is the first-ever Filipino short film that made its way to the 2021 Sundance Film Festival. It is the only Filipino short film that will compete in the 24th SIFF.  
Calvento also co-produced "John Denver Trending" and wrote and directed "Nabubulok," which was recognized in the Film Development Council of the Philippines' (FDCP) 3rd Film Ambassadors' Night in 2019. 
"As 'Excuse Me, Miss, Miss, Miss' competes in another international film festival, this time in Shanghai, we hope that more international audiences will get to learn about our diverse stories inspired by Filipino culture, including those that delve on societal issues," said FDCP Chairperson and CEO Liza Diño.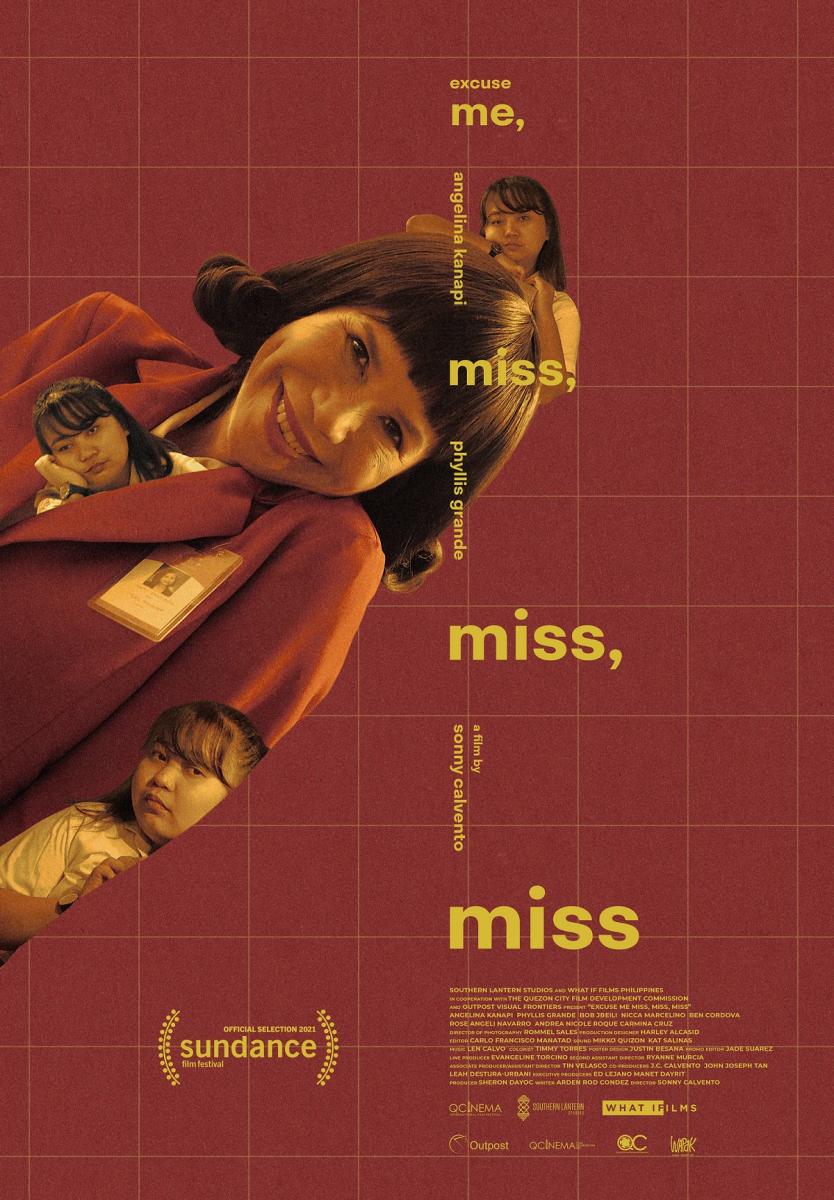 Vangie, played by Phyllis Grande, is a miserable contractual sales girl who is on the brink of losing her job. One day, in her desperate attempt to convince her boss (Angelina Kanapi) not to sack her, she discovers the ultimate secret to regularization. 
The film is produced by Southern Lantern Studios' Sheron Dayoc, along with Eduardo Lejano, Jr., and Manet Dayrit. Screenplay by Arden Rod Condez, Cinematography by Rommel Sales, Editing by Carlo Francisco Manatad, Music by Len Calvo, Sound by Mikko Quizon, Kat Salinas, and Production Design by Harley Alcasid complemented the film's ensemble. 
The film's debut in the 2019 QCinema International Film Festival bagged the Audience Choice Award and was nominated for Best Picture. In 2020, it was nominated for Best Short Film in the Cinemalaya Independent Film Festival and the following year, in the recent 2021 Sundance Film Festival. 
In an interview with Oliver Emocling of CNN Philippines, Calvento expressed his reason behind his chosen medium for the film: "Short films are equally as important as feature films, and should not be seen only as stepping stone for a feature film. I made my first short film because I wanted to find my voice."
"But after making 'Excuse Me, Miss, Miss, Miss,' I have a renewed respect for the medium. Short films have the potential to be as impactful or, sometimes, even more impactful than feature films," he continued. 
For more information on "Excuse Me, Miss, Miss, Miss" in SIFF, visit www.siff.com/content.
Source: https://www.fdcp.ph/media/sundance-shanghai-excuse-me-miss-miss-miss