Pista ng Pelikulang Pilipino 5 Kicks Off with Youth, Regional Shorts Competition

MANILA, PHILIPPINES, SEPTEMBER 16, 2021 — The much awaited annual flagship program of the Film Development Council of the Philippines (FDCP), the Pista ng Pelikulang Pilipino (PPP) puts the spotlight on short films this year as it kicks off its fifth edition with free screenings from the 25 finalists from Sine Kabataan Short Film Competition and Sine Isla: LuzViMinda Short Film Competition on September 17 to 26 on the FDCP Channel.
PPP 5, with the theme "Bagong SineMula," highlights the narratives of the regional filmmakers and the youth with Sine Isla and Sine Kabataan, respectively. It features ten (10) entries from Sine Kabataan, a platform that provides an opportunity for aspiring young filmmakers to expose their fresh talents, and fifteen (15) finalists from Sine Isla: LuzViMinda, a new short film competition that provides support and recognition to regional filmmakers.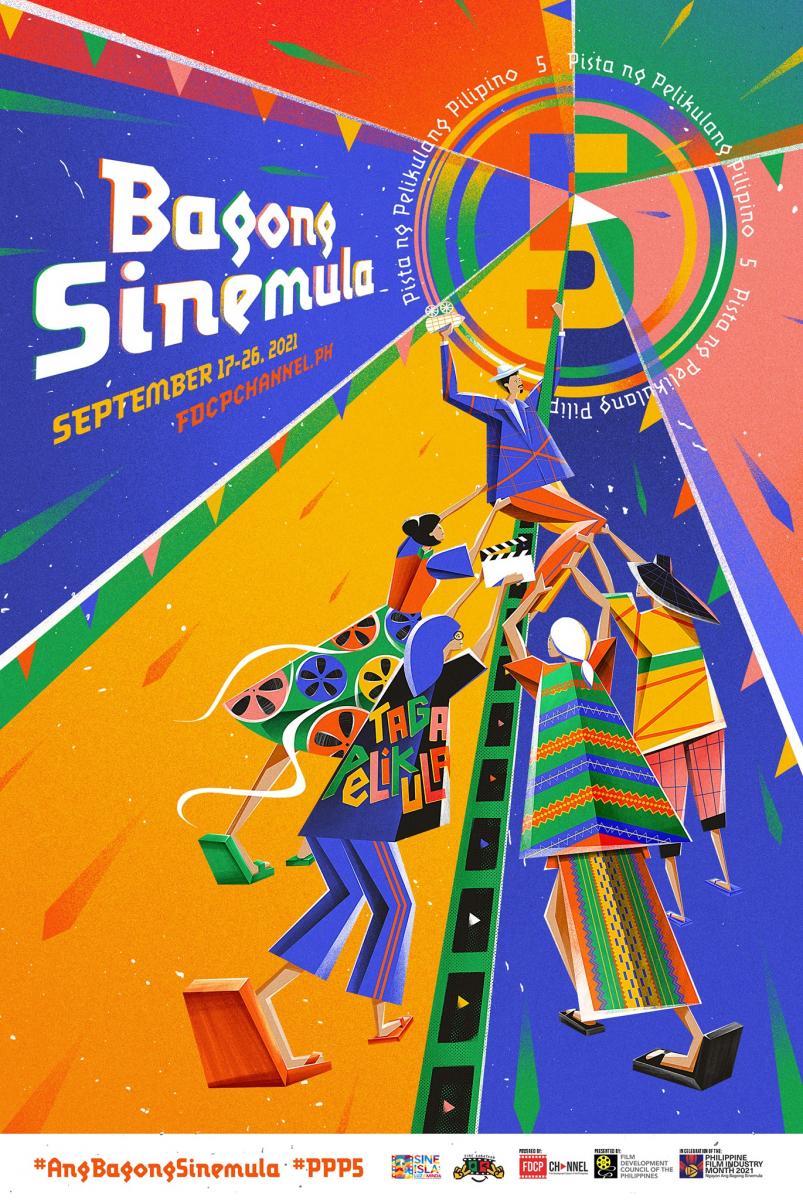 On September 15, PPP 5 held its virtual Opening Ceremony to launch the Sine Kabataan and Sine Isla: LuzViMinda screenings on the FDCP Channel and introduced the filmmakers of both competitions. From September 17 to 26, the 25 short films will be available to stream on the FDCP Channel. Furthermore, to give the participating filmmakers and audiences a platform to discuss the short films and gain deeper insights, Talkbacks with Sine Kabataan and Sine Isla: LuzViMinda filmmakers will be held on September 24 and 25, followed by the awarding of the winners during the Closing Program of the Philippine Film Industry Month on September 30.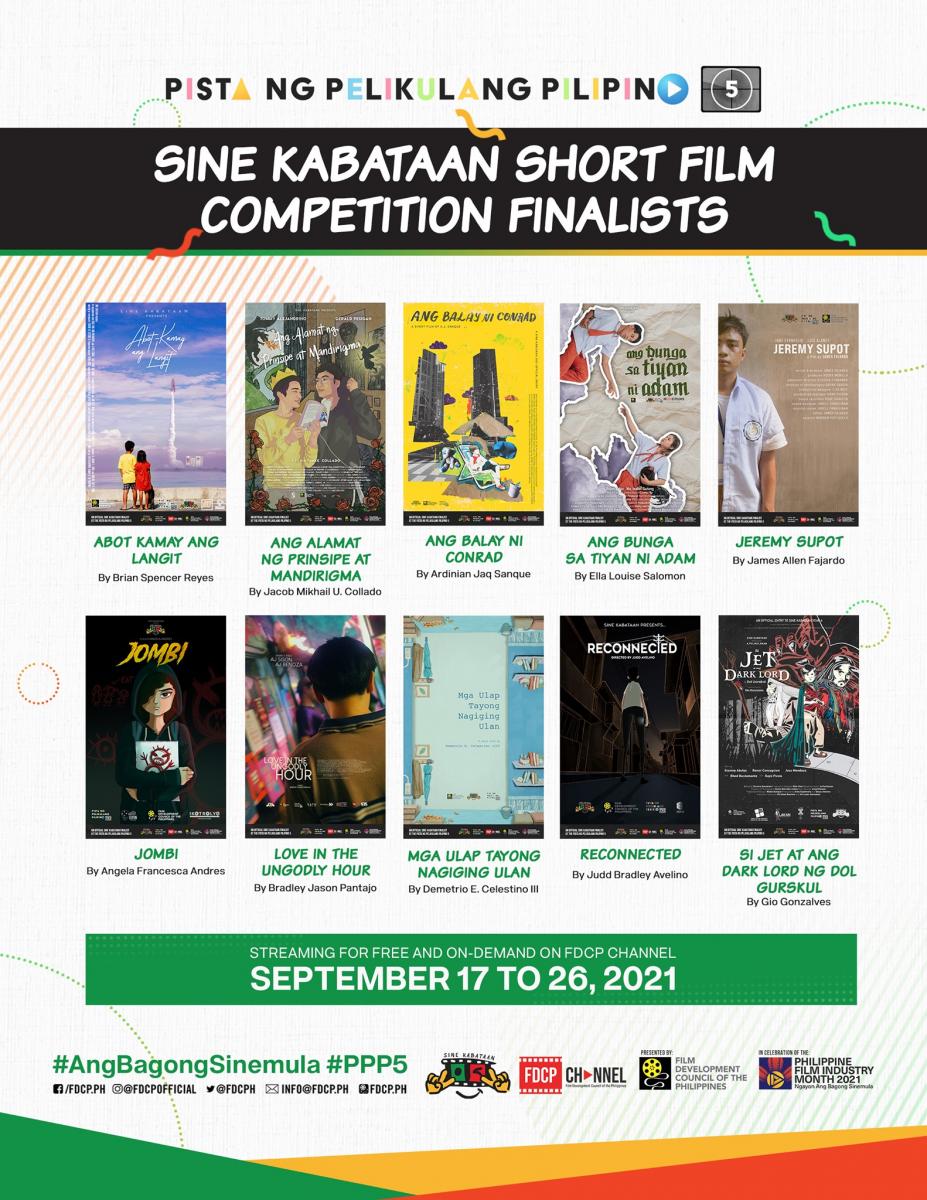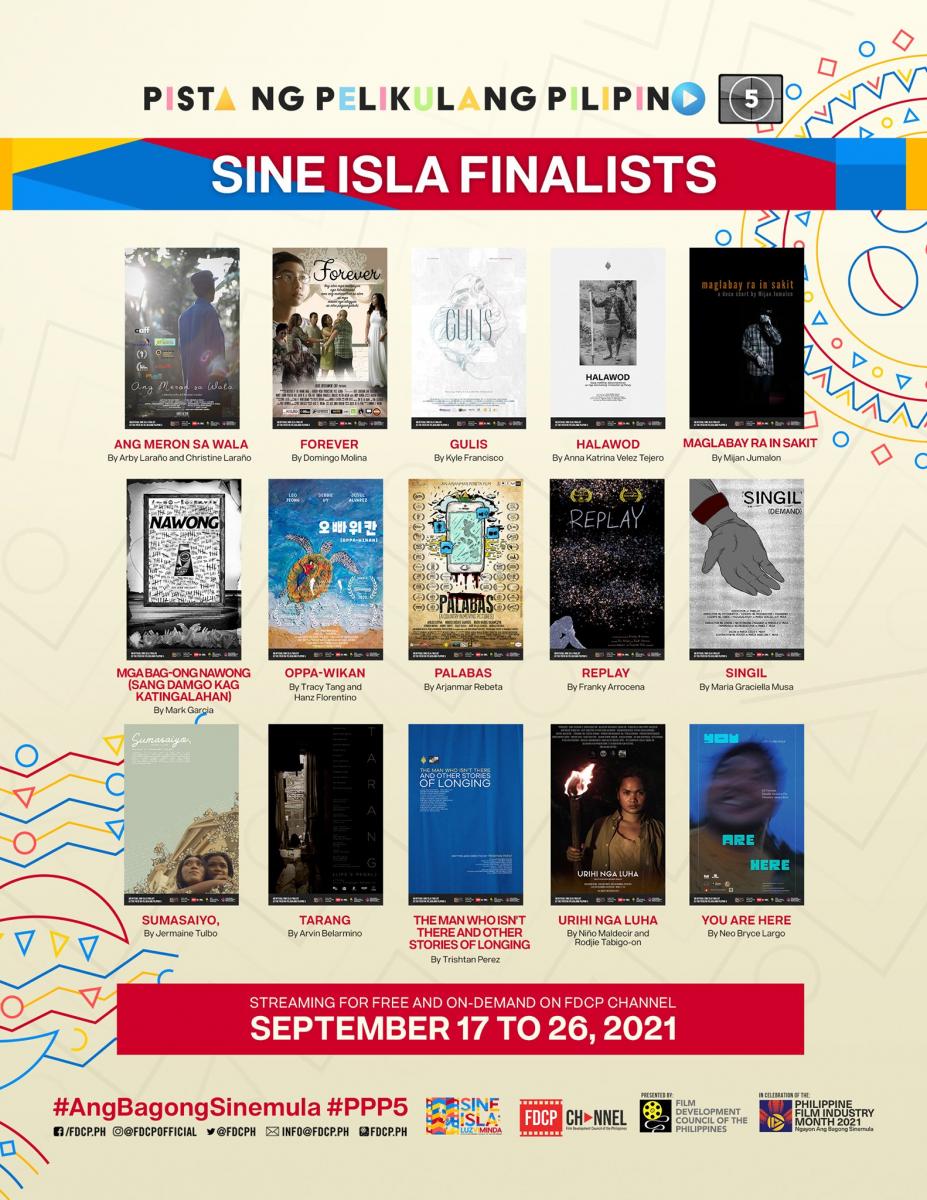 "The agency, through its annual PPP, showcases a variety of stories from filmmakers all over the country. This year, we are introducing unique voices from carefully curated short films from the agency's programs. We hope to inspire the audience and ask for their support as FDCP highlights films by the youth and regional filmmakers in this first leg of the program," said FDCP Chairperson and CEO Liza Diño.
Sine Kabataan is a platform that encourages the youth to develop their creativity and originality in storytelling while touching on pertinent issues in society. In its 4th edition, for the first time, FDCP chose ten (10) projects in development and awarded them with a production grant. These projects underwent intensive labs to elevate their works until the final films were produced. The finalists are set to debut on the FDCP Channel for PPP 5. 
Through the chosen 15 short films by the selection committee and esteemed jury, Sine Isla: LuzViMinda, a nationwide short film competition, aims to attain a more inclusive Philippine Cinema by highlighting narratives from regional filmmakers.  
PPP 5 Free Screenings from September 17 to 26: 
Sine Kabataan Finalists 
"Abot Kamay Ang Langit" by Brian Spencer B. Reyes 

"Ang Alamat ng Prinsipe at Mandirigma" by Jacob Mikhail U. Collado

"Ang Balay ni Conrad" by Ardinian Jaq Sanque

"Ang Bunga sa Tiyan ni Adam" by Ella Louise B. Salomon

"Jeremy Supot" by James Allen Fajardo

"Jombi" by Angela Francesca V. Andres

"Love in the Ungodly Hour" by Bradley Jason Pantajo

"Mga Ulap Tayong Nagiging Ulan" by Demetrio E. Celestino III

"Reconnected" by Judd Bradley Avelino

"Si Jet at ang Dark Lord ng Dol Gurskul" by Terence Giourdan Gonzalves
Sine Isla: LuzViMinda Finalists
"Ang Meron sa Wala" by Arby Laraño and Christine Laraño 

"Forever" by Domingo I. Molina

"Gulis" by Kyle Jumayne Francisco

"Halawod" by Anna Katrina Velez Tejero

"Maglabay Ra In Sakit" by Mijan Jumalon

"Mga Bag-ong Nawong (sang Damgo kag Katingalahan)" by Mark Raymund Garcia

"Oppa-wikan" by Tracy Tang and Hanz Florentino

"Palabas" by Arjanmar H. Rebeta

"Replay" by Franky Arrocena

"Singil" by Maria Graciella Musa

"Sumasaiyo" by Jermaine Tulbo

"Tarang" by Arvin Belarmino

"The Man Who Isn't There and Other Stories of Longing" by Trishtan Perez 

"Urihi Nga Luha" by Niño Maldecir and Rodjie Tabigo-on

"You Are Here" by Neo Bryce Largo
The PPP 5: Sine Kabataan and Sine Isla: LuzViMinda is part of the celebration of the Philippine Film Industry Month this September. 
Source: https://www.fdcp.ph/media/pista-ng-pelikulang-pilipino-5-kicks-youth-regional-shorts-competition